We started to share our e-commerce calendar at the beginning of 2022. It is full of remarkable international days that you can use to create themed campaigns. We have updated it with October, November, and December.
 
You can easily connect to the e-commerce calendar digitally via your Google account. All events are also set for the upcoming years. This way, you get a long-term overview of interesting days suitable for your advertising.
Do you prefer a print version? Download the PDF.
HOLIDAYS IN OCTOBER
Besides Halloween, there is, for example, World Music Day and World Vegan Day in October. If you sell audio speakers or vegan food, this is an ideal opportunity to create a themed campaign for your customers.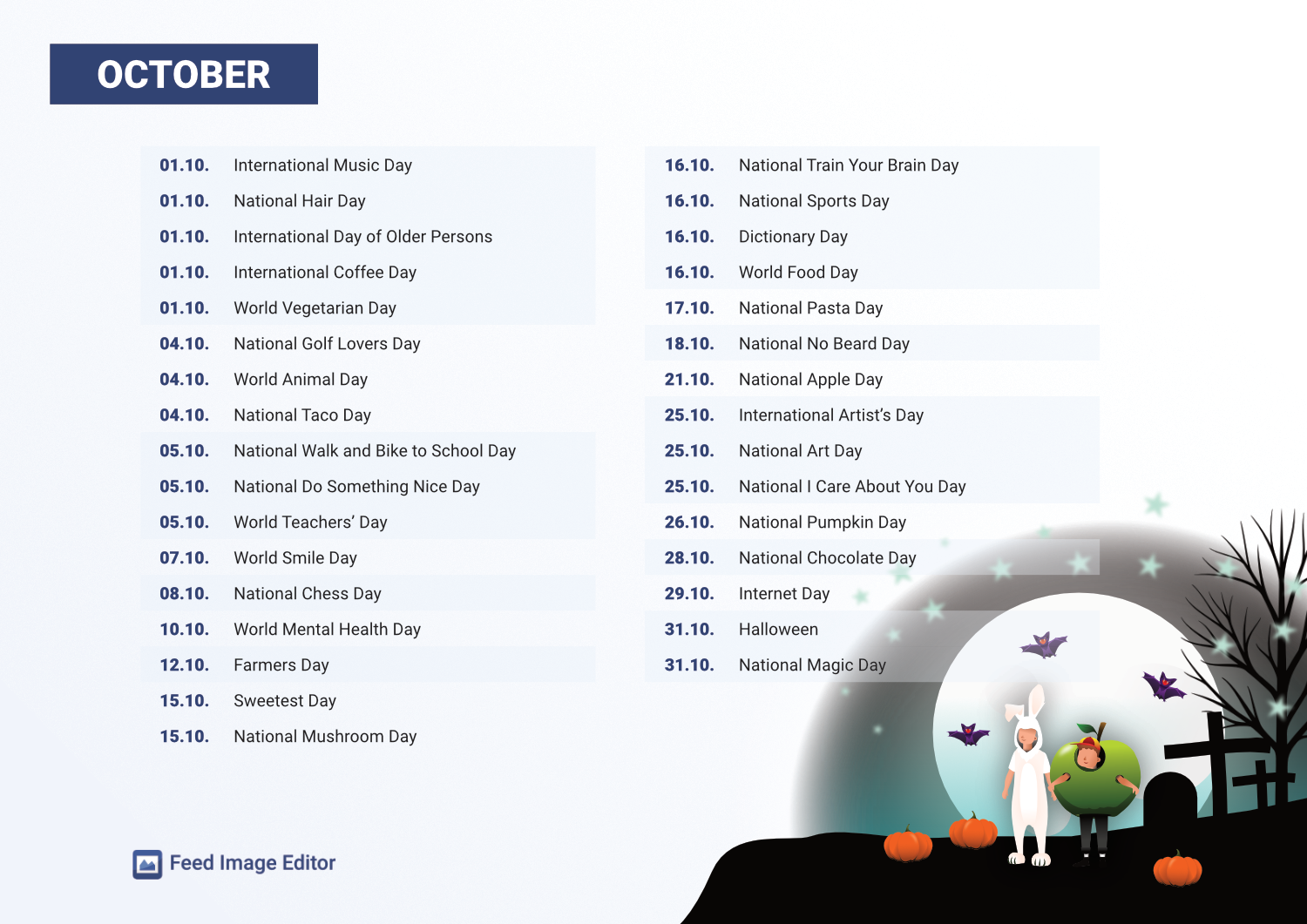 BLACK FRIDAY AND CYBER MONDAY IN NOVEMBER
Is there anyone who wouldn't look forward to shopping at the lowest possible prices? Prepare your online store for advertising –⁠ Black Friday and Cyber Monday, which every online and offline shopper knows.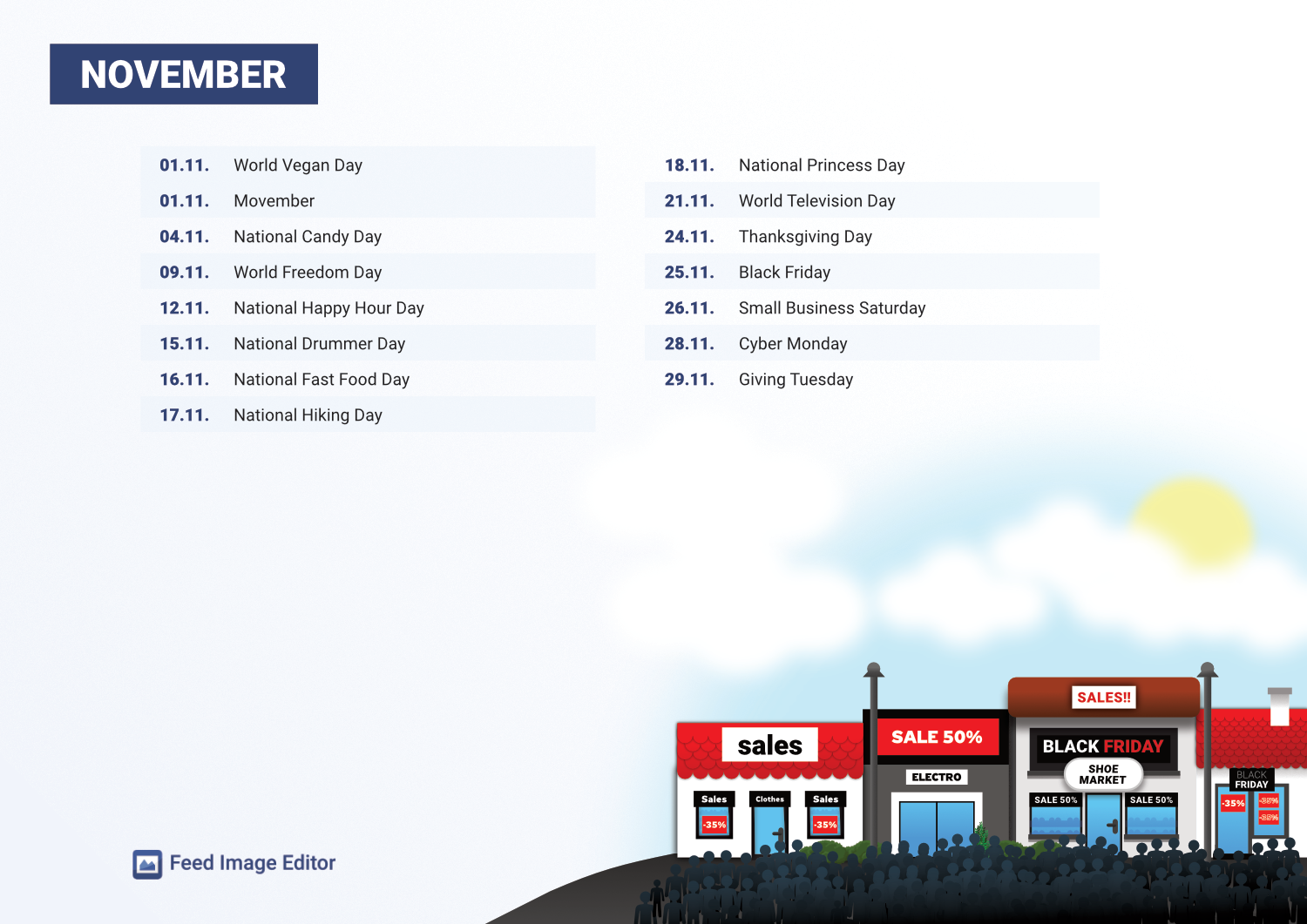 TIP
Do you worry about forgetting to turn your template on or off? See how to set them automatically in the Feed Image Editor.
CHRISTMAS IN DECEMBER AND GIFTS WITHOUT SHIPPING FEES
The end of the year belongs to Christmas. On December 14th, there is Free Shipping Costs Day. Many shoppers use it as the perfect opportunity to buy Christmas presents. Are you going to take part in it? Guarantee on-time delivery to keep your customers happy.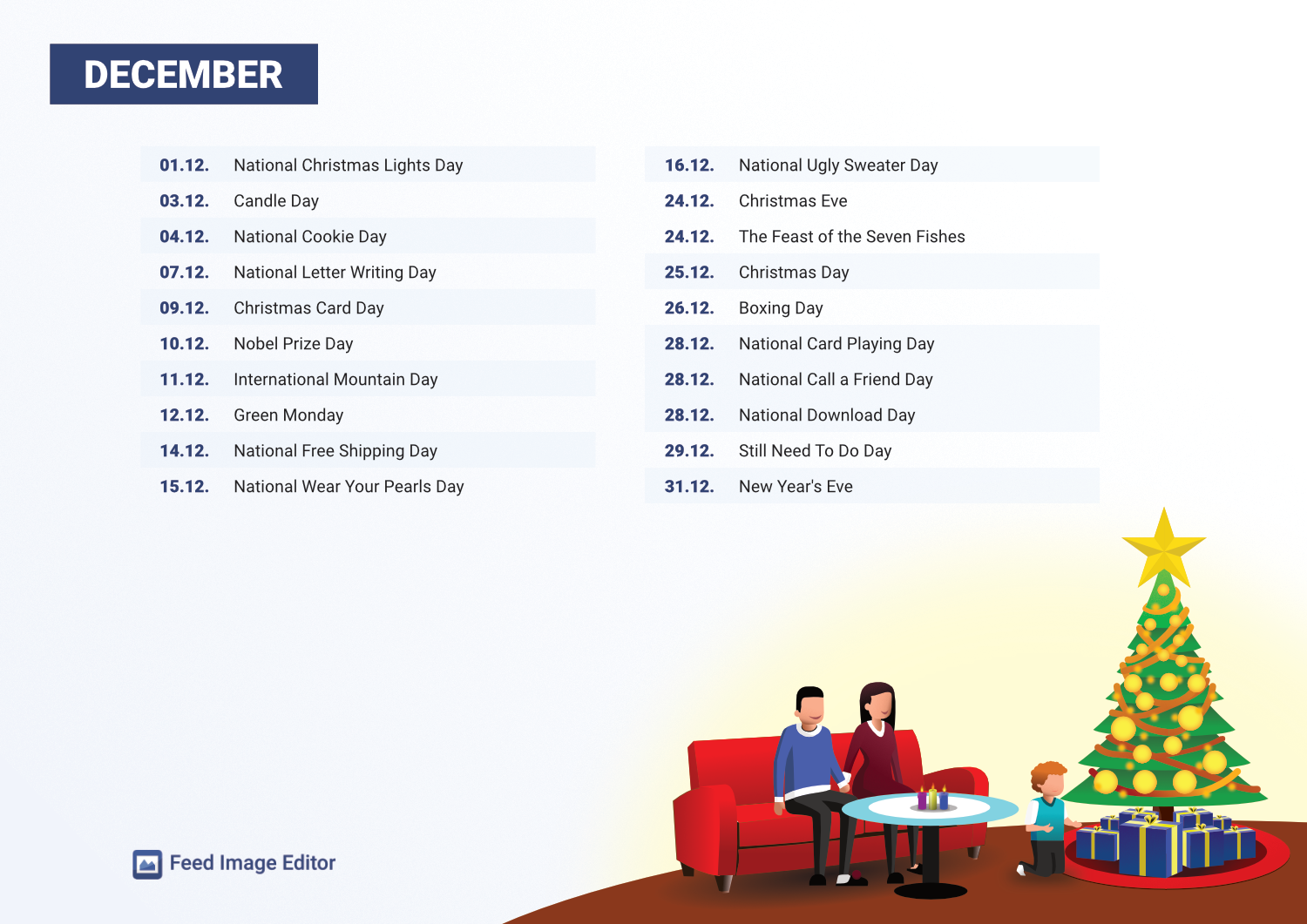 TIP
The Feed Image Editor app offers many graphic elements to make your image campaigns look great. They are divided to suit certain holidays but are also universally usable. You can easily create thematical image campaign templates with them. And you don't need to hire a graphic designer. Get inspired by our 10 tips for interesting graphics.
📆 Previous articles about the e-commerce calendar:
The e-commerce calendar is complete now, and you can use it for years to come. Thematic campaigns take a major part in image advertising. Do you want to know more? Book a free online consultation with our product owner, Marek Daňko. He will suggest the best options for your product image advertising.