How to optimize product images in bulk when comparison engines and marketplaces have different requirements? If you have ever encountered missing images, unsupported dimensions or background, watermarks or low quality images in your online store, this webinar is tailored just for you. You will learn how to fix these issues in quick steps and how to increase performance of your advertisement.
When
24. 10. 2023
The duration is from 13:00 AM to 14:30 AM.
We will deal with
What is image marketing and what is its practical use.
What are the most common problems with images on the online store.
What are the most common problems with images on advertising systems.
How to quickly and easily detect and correct errors in images.
What is the Image validator and how to use it to diagnose issues in images.   
Price
Webinar is free. Mergado account is not needed.
Who is the webinar for
For merchants, digital marketers and PPC specialist who deal with product advertisement. You can be a complete beginner.
Lecturer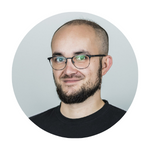 Marek Daňko
Marek is Product owner of Feed Image Editor. With more than three years experience, he is focusing on delivering great products for optimizing product images in the e‑commerce field.