Learn how to promote the benefits of your products to images using graphic labels, stickers, effects and product feed data. You can do everything automatically and in bulk, without the help of a graphic designer. Together we will discuss more than 80 different creative examples from real life and there will also be space for your questions and feedback.
When
31. 10. 2023
The duration is from 13:00 AM to 14:30 AM.
We will deal with
What is image marketing and what is its practical use.
How to create graphic creatives in bulk and automatically without the help of a graphic designer.
How to effectively advertise product benefits in images using labels, stickers and other elements.
How to create strong CTAs in images.
How to enhance images on advertising platforms where graphic elements are not allowed.
How to set image campaigns to run automatically over time.
Price
Webinar is free. Mergado account is not needed.
Who is the webinar for
For merchants, digital marketers and PPC specialists who deal with product advertisement. This webinar is follow to our beginner's lecture: Optimize product images for comparison shopping and marketplaces.
Lecturer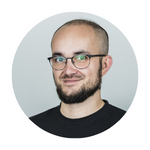 Marek Daňko
Marek is product owner of Feed Image Editor. With more than three years experience, he is focusing on delivering great products for optimizing product images in the e‑commerce field.